 A Galveston Hotel for the
Whole Family
Could there be a better hotel for family-friendly fun in Galveston, Texas? Located directly next door to Schlitterbahn Waterpark and Moody Gardens, the Inn at the Waterpark is the perfect place for family vacations, group trips, and guests of all ages. The Inn is casual and carefree, with affordable rates that make it Galveston's best bet for comfort and convenience. The Inn boasts a fun, island-style atmosphere that is felt in everything from spacious guest rooms to thoughtful amenities.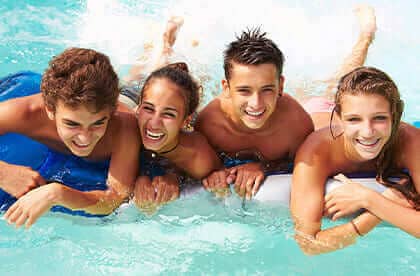 Top Reasons to Stay
1. Family-Friendly Fun
With a pool and mini golf on site, Inn at the Waterpark is the perfect family-friendly hotel for your next Galveston getaway.
2. Endless Attractions Nearby
From mild to wild, Galveston Island offers unique events and attractions for all ages, most are within walking distance too!
3. Set Your Clock to Island Time
Leave the daily hustle and bustle behind and get ready to set your clock on Island Time.
Learn More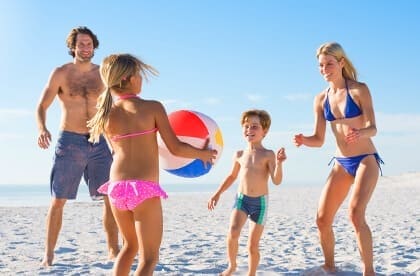 Our Top Picks for Family Fun
An island of excitement awaits guests of Galveston Island and the Inn at the Waterpark is right in the middle of all the action! Find your sense of adventure on a thrilling Schlitterbahn water slide, venture into a Moody Gardens tropical rainforest, or explore in style on one of our Galveston Trolleys.
Learn more
Let's Go! Exploring Galveston
Endless island attractions and exciting annual events will keep your family entertained for a weekend getaway or an entire vacation season, depending on how long you're planning to stay! Make a splash at Schlitterbahn Waterpark, take a swing at the Moody Gardens Golf Course, or cruise the 32 miles of coastal highway along the Gulf of Mexico shore.
View interactive Map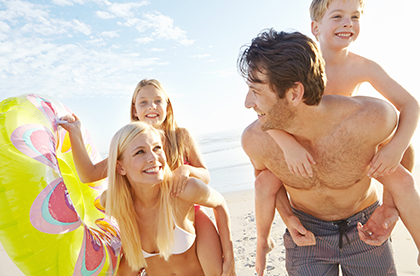 Stay Longer, Save More!
The longer your stay, the more you can save! Take advantage of this special and all the exciting attractions the Texas Gulf has to offer. You'll enjoy our great location and everyday amenities like free Wi-Fi, miniature golf, and an outdoor pool.
Disclaimers: *Schlitterbahn Waterpark tickets are not included with this offer.
Book Now
View more deals
Exclusive Waterpark Season Pass Holder Savings
Save up to 20%
If you're a season pass holder at Schlitterbahn Waterpark Galveston, this one is for you. Enjoy up to 20% off on Weekday travel (Sunday-Thursday).
Must present Schlitterbahn Waterpark Galveston Season Pass upon arrival. DOES NOT INCLUDE WATERPARK TICKETS. Please visit https://schlitterbahn.info/ for further updates.

Book Now
View more deals

Group Get-Togethers in Galveston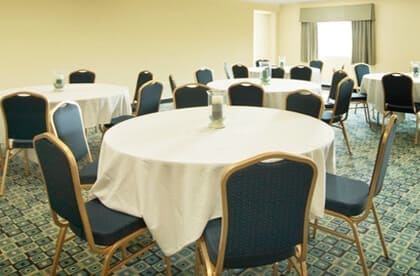 Learn more

Reviews
"What a lovely place to stay!"
The rates were good and the location is easy!! Complimentary breakfast was quite substantial, and the free mini golf was fun!! The people were super-friendly, and the rooms were really large!! We will definitely be back!!
- Becky v
"Fun, relaxing trip"
We visited the Inn at the Waterpark for a mini family vacation. The inn was clean, inviting, and very fun for the kids. The restaurant next door is an absolute must for breakfast! Breakfast buffet was $2.99 and delicious.
- Stephanie N
"We will return"
The hotel was clean, the rooms were large, and the price was right. For the itinerary we had planned for this trip, not only was the price right but the location was too. We were within walking distance of the Lone Star Flight Museum, Schlitterbahn's water park, and Moody Gardens.I could easily recommend this hotel to friends and family.
- Curtis C
"Great Place to Stay Before Going on a Cruise"
This hotel was quiet, clean, up-to-date, and conveniently located. The staff was friendly and there was a free miniature golf course for guests to use. Also they had an adequate, free breakfast. We were able to have free, covered parking for our car for the week we were on a cruise, and a $10/person, round-trip fare to the ship. It was a very enjoyable stay at the Inn at the Waterpark.
- 519lovetotravel316